Are you looking to estimate the demand for either chicken eggs or meat in your market?
Writing a business plan for your poultry start up, requires accurate demand estimation for your product.
These figures support your projected sales and revenue. They add substance to your proposal.
And not just for the satisfaction of potential investors reading your plan, but also for you own confidence too.
In this article, I will uncover the economics behind poultry demand and supply.
(Plus, I will walk you through my methods for accurately estimating market demand for poultry products.)
The economics of poultry demand
The drive of any economy is demand. Households and organisations need inputs to produce an output.
In the case of nutrition, demand for poultry products is dominant among all classes of animal protein:
Global chicken meat demand
| Type of meat | Total consumption (kg/capita) | Share |
| --- | --- | --- |
| Poultry | 14.7 | 43% |
| Pork | 11.1 | 33% |
| Beef | 6.4 | 19% |
| Sheep and goat | 1.8 | 5% |
| Total | 34 | 100% |
Source: Poultry World (World Meat Consumption 2019)
The consumption figures above indicate kilograms of poultry meat (inc. all types of poultry, chicken being the most popular – but not excluding turkey, quail, duck etc.)
Per capita indicating per person, globally.
So, the table above tells us that if we took the total weight (in kilograms) of  all poultry meat consumed worldwide during 2018 and divided the sum by the total global population that year:
It is estimated, by taking a 'mean average', that each person on earth consumed 14.7 kg of poultry meat throughout the year of 2018.
A huge demand.
Now, that's globally.
But what about proportionally on a country level?
Here is a sample of per capita poultry meat consumption figures for 10 countries (comparing years 2000 and 2019):
Poultry consumption,

2000 (kg/capita)

Poultry consumption,

2019 (kg/capita)

% change (2000 – 2019)
Ethiopia
0.5
0.1
-77.5
Nigeria
1.2
0.9
-25.6
Paraguay
5.8
5.4
-7.6
Argentina
22.9
37.9
65.6
Australia
29.7
43.5
46.5
Brazil
26.1
40.3
54.6
Canada
29.7
35.3
18.9
Chile
23.4
36.1
54.6
China
8.4
14
67.9
Colombia
11.7
31.3
167.4
Source: Poultry World (World Meat Consumption 2019)
This gives us a closer look a patterns of poultry meat consumption on a national level.
Cultural & religious customs, tourist trade, traditional practice and cost all play a part in the overall level of demand for poultry meat.
Global chicken egg demand
In Europe, the average is 210 eggs/year [per person/capita], but within that, there are high variances – in Spain consumption is 273 eggs/year while in neighbouring Portugal consumption is almost half at 146 eggs/year.
Source: Poultry Network
The economics of poultry supply
Naturally, this material demand attracts a comparative supply. And as populations grow, so does the need for more chicken eggs and meat production.
Available funding for poultry production
Lenders
Governments have a incentive to encourage agricultural enterprise to meet the demand. This is often expressed by grants monies awarded to start-ups or existing farms diversifying into poultry farming.
Lending banks also have much to gain by attracting credit worthy borrowers with favourable poultry loan arrangements.
Rationale
Governments are always looking into stimulating risk takers to shoulder social burden for food demand and poultry farming is a popular channel of investment. By offering financial benefits, the hope is this investment potential will attract entrepreneurial talent to engage in projects to increase poultry production.
Type
The form of grant given is often subsidy. Meaning qualification is dependent upon qualifying for a bank loan. The government contribution is then paid once the loan repayments have cleared. Otherwise known as back-ended subsidy.
Profitability
As for for commercial poultry farming, feasibility is partly covered by demand. But for any poultry farm to be sustainable (including yours), trade also needs to be profitable.
Rising costs
Rising cost of inputs like chicks, medicines and feed (which accounts for up to 70% operational cost), coupled with fluctuating market prices for eggs and chicken meat complicates a farmer's bottom line.
To battle these challenges, farmers are called to exercise great diligence in agricultural cost control.
With costs under control and pricing buoyant, next, tapping into demand is then key to business growth.
But how exactly should you accurately estimate the demand for poultry products?
Methods of estimating demand for poultry products
There's no perfect way to estimate poultry demand. By definition, you're only estimating. Or rather, taking a learned guess.
But what we can say it that there is a logical approach.
Recommended steps to estimating market demand for poultry products
1. Define what you mean by poultry products
The product class, 'poultry', covers so many types of fowl, breeds and products that you really need to narrow down your definition for the purpose of your poultry business plan.
For example, don't just say 'eggs'.
This is too ambiguous.
Do you mean chicken eggs?
Table eggs?
Hatching eggs?
Large eggs?
Medium eggs?
Organic eggs?
Vitamin-enriched eggs?
Being specific will only make your projections more accurate and your proposal persuasive to the right people.
2. Decide on scale
On what scale will you be supplying product.
Typically, in a marketing sense we think 5 levels when talking about size or scale of market.
Global
International
National
Regional
Local
Once you pin down the size of market you are talking about, this provides definition to the container of demand.
Your estimated 'whole of market' demand for poultry product, is therefore defined by the number of consumers either residing or flowing through your chosen territory.
3. Segment the marketplace
Marketplaces are not homogenous. Even niches like chicken meat, for example are not filled one big blanket consumer or buyer.
There are so many different uses of poultry products and each use case fuels overall demand for the product class.
For example, chicken meat can be used for the following purposes:
household consumption
pet food
manufacture of ready made foods
…these are just a few reasons why chicken meat might be sought after in your marketplace.
4. Identify drivers (inc. seasonality)
What makes the sales of the product move? What drives demand?
With turkey meat, for example, sales will hugely be affected by seasonal festivities.
As a turkey producer, you might get 8% volume of sales occurring throughout January to November with 92% sales in December alone.
Estimating when and how demand is generated helps you meet the necessary supply.
5. Available products
What is currently being sold to satisfy the demand?
How effective are those current products at filling the hunger gap.
6. Available services
How well are the current producers doing at delivering adequate service levels that meet buyer needs?
Delivery, credit, convenient online order etc.
Supporting buyers with the most convenient methods of obtaining product, influences eventual demand.
7. Alternatives
Can your poultry product be substituted for any other types? Product demand can be affected by like-for-like alternative that hit the market.
Always weigh up product alternatives when estimating demand. Remembering to adjust your estimation of potential market share to take into account  like-for-like alternative products too.
8. Best value
Value drives commerce. It's the necessary ingredient that unlocks the sale.
Where value is perceived, demand is met with realised gain for vendors.
When estimating demand assess the value proposition of your products and service delivery. The resulting value perception of the buyer will either work in favour or or against your sales success.
9. Competitive advantage
Where businesses possess a competitive advantage, the deal table is tilted in their favour. Sales traction and audience gathering potential work for them and magnifies their success.
This skews demand because the market place isn't necessarily an even playing field.
Adjust your estimations to account for certain players having a stronger pull on demand than others.
10. Buying patterns
There are triggers that lead to buyers making a purchase. The motives behind this might be quite complicated and not necessarily uniform across an entire segment of customer.
For example, some households prefer to buy monthly whilst others stock up from week to week.
11. Retention KSFs (key success factors)
Demand for poultry producers should be cumulative.
In other words, if you gained a new customer today, you should see that as recurring income for the long-term so long as your continue to offer best value.
Each customer you add on should represent repeat sales and recurring revenue.
But this isn't always the case. Customers often leave to buy from elsewhere, taking with them their recurring cash flow.
Keeping them happy is key to long term poultry business success. Discovering what matters to them and why will put your business in a stronger position for retaining your portion of market demand.
Examples
Global & International Territories
If you are looking for accurate estimates on global poultry demand, then look no further than the OECD-FAO Agricultural Outlook.
It showcases the most robust global agricultural data, projections and estimates published by the UN.
Charts like this Global Use of Commodities offer big picture perspective on worldwide agricultural trends:
(Source: OECD-FAO)
National Market
National governments are the gold standard source of a country's agricultural consumption and production data.
They have the official word on everything domestic and their statistics offices are awash with useful metrics.
Take the Philippines Statistics Authority, for example. They are the Philippines official government office overseeing the collection, analysis and publication of stats related to the country.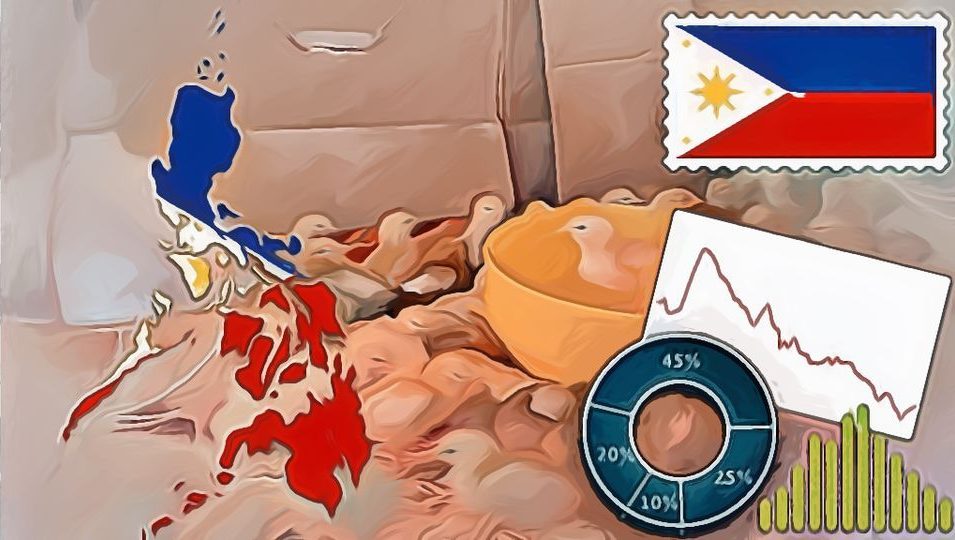 In this post, I summarise all of the relevant poultry stats for the Philippines which you might find useful if starting your project over there.
Regional Market
Poultry associations are a great source of regional statistics within your poultry market.
They tend to have greater sensitivity to on the ground compared with national government offices and often supply national agencies with accurate numbers.
This local government sponsored project in Kerala is a great example of a regional poultry project that produces quality statistical figures.
Local Market
For a more localised view on demand for poultry products, there are two methods I recommend.
Primary research B2B: if you're looking for a business-to-business estimate of poultry consumption, the most accurate method (although time consuming) is to go prospecting yourself.
In other words, draw up lists of potential buying organisations in your locality like hotels and restaurants.
Make direct contact with them, speak to decision makers who buy poultry products and survey them an inside track on demand.
I can't stress enough just how valuable the insights gathered via this method are. Doing your own canvassing cannot be compared with buying a list or reading a directory.
This guide on selling to restaurants is a great lead into the topic of direct selling poultry products to other businesses.
Census B2C: if you're looking for an estimation on how much household consumer demand there is for poultry products in your locality, then I'd always opt for the official census data.
Again, your governmental statistics department is the go-to here.